Winthrop Rockefeller, 1912-1973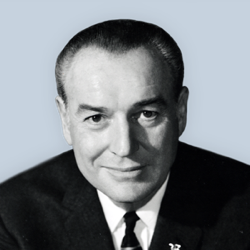 Winthrop Rockefeller was born May 1, 1912, in New York City, the fifth of six children of Abby Aldrich and John D. Rockefeller, Jr. He attended the Lincoln School of Teachers College of Columbia University in New York and the Loomis School in Windsor, Connecticut. He entered Yale University in 1931, but he left school in 1934 to work in the Texas oil fields as a roughneck and roustabout for the Humble Oil and Refining Company.
Winthrop returned to New York by 1937, but after a series of executive positions, he enlisted in the U.S. Army as a private in January 1941. During World War II he participated in the assault landings on Guam, Leyte, and Okinawa in the Pacific. Aboard the troop transport Henrico en route to Okinawa, he was wounded in a kamikaze attack. Among his decorations were the Bronze Star with Oak Leaf Cluster and the Purple Heart. He attained the rank of lieutenant colonel by the time of his discharge in 1946.
After the war, Winthrop worked at the Socony-Vacuum Oil Company until 1951. By 1953 he decided that he needed a change of scenery from New York and settled permanently in Arkansas. He purchased a 927-acre tract atop Petit Jean Mountain, 60 miles west of Little Rock, where he built Winrock Farms. His internationally recognized cattle operation for pure-bred Santa Gertrudis cattle drew buyers from many parts of the world. The "WR" brand became internationally known as a symbol of excellence among Santa Gertrudis owners.
In 1955, Governor Orval Faubus appointed Winthrop as chair of the new Arkansas Industrial Development Commission. Under his eight-year leadership, the commission helped 600 industries locate to or expand in Arkansas, creating more than 100,000 job opportunities.
As the state Republican National committeeman beginning in 1961, Winthrop led efforts to bring about a two-party system in heavily Democratic Arkansas. He ran for governor in 1964 and received 44% of the vote, which doubled the previous record of total votes cast in the state for any Republican candidate. He then successfully ran in 1966 and took office in 1967 as the first Republican governor in Arkansas in 94 years. Winthrop won re-election in 1968 but then lost in a three-way race in 1970. His two terms in office were marked by a state legislature that was overwhelmingly Democratic. At one point, there were 97 Democrats and only 3 Republicans in the Arkansas House of Representatives.
Winthrop considered one of his greatest challenges as governor to be the reform of the state penal system. He brought in professional penologists as part of his corrective measures. His administration also shut down open gambling in Hot Springs, a resort area. Other reform legislation enacted under Winthrop's administration included governmental reorganization and tighter insurance and securities regulations. He was especially proud of the enactment of the Freedom of Information Act of 1967, which had the effect of opening official meetings to the public.
Winthrop contributed money and time to a number of philanthropic projects and causes that his family favored. His attitude toward wealth and its uses echoed the sentiments of his father, expressing that he received more satisfaction from supporting philanthropic achievements and advancing freedom than in personal use of his family's wealth. Winthrop served as chair of the board of Colonial Williamsburg Foundation, which his father established, and in 1940 was one of the founders and trustees of the Rockefeller Brothers Fund. He also served as a trustee of the National Urban League from 1940 to 1964.
He undertook several philanthropic projects to promote the development of education and public health in Arkansas, creating the Rockwin Fund in 1956 (renamed the Winthrop Rockefeller Foundation in 1974) to fund such projects. He was instrumental in establishing the Arkansas Arts Center, a facility designed to serve the entire state from its central location in Little Rock. He was a trustee of several educational institutions, including Vanderbilt University, and was a member of the Southern Advisory Board for the Institute of International Education. He established student aid funds at several Arkansas colleges, and in 1956 he started the Arkansas Opportunity Fund to provide scholarships to qualifying students. Winthrop served in an advisory capacity during the development of both the University of Arkansas Medical Center and the Graduate Institute of Technology in Little Rock. In recognition of this and other services, he received several honorary degrees, including ones from the University of Arkansas, Hendrix College, New York University, the College of William and Mary, College of the Ozarks, and Southwestern at Memphis.
Winthrop Rockefeller was married twice. He married the former Barbara Sears on February 14, 1948. Their marriage ended in divorce in 1954, but not before they had one son, who followed his father into politics as lieutenant governor of Arkansas in 1996. In 1956 Winthrop married Jeannette Edris. She had a son and daughter from a previous marriage. The couple divorced in 1971.
On February 22, 1973, Winthrop Rockefeller died of cancer in Palm Springs, California, at the age of 60.